Hey there! Hope you're enjoying taking a look through some of my current fly bonnet listings, I've enjoyed making every single one of them. From the fun colored to the "conservative" options (I like the fun colored ones #noshame), I've tried to fill the shop with items that will appeal to each and every one of you . . . but you see my favorite projects are the custom ones.  It's always an adventure seeing how your ideas translate from paper to real life. They always come out even better than I could have anticipated! The number one question I get when building a custom fly bonnet order is "what are my options?" An understandable question given the majority of my buyers don't crochet. You've got horses to ride and horse shows to enter so who's got time? The answer to this very important question is MANY. Let's go over the basics of building a custom order.   
STEP 1: STYLE AND SIZE. When referring to style of your bonnet, we're looking at the shape of the front of the bonnet. I offer four styles – V-Shaped, Square, Rounded, and Tie-Down. V-Shaped, Square, and Rounded front are pretty self-explanatory; though the Tie-Down option is a new option and is an elongated V-Shaped style that allows you to attach the bonnet to your horse's noseband with an elastic. I personally gravitate towards the V-Shaped, Square, or Rounded front styles for the show ring. They're a bit more conservative but choose a style that suits you're style (#youdoyou) and compliments your horse well. You'll then have the option of cob, horse, and warmblood sizing. I offer pony sizing on a select group of bonnets and am happy to work with you on custom sizing (that goes for any of the bonnets on my site). I'll even send you a handy chart on how to measure for a custom bonnet!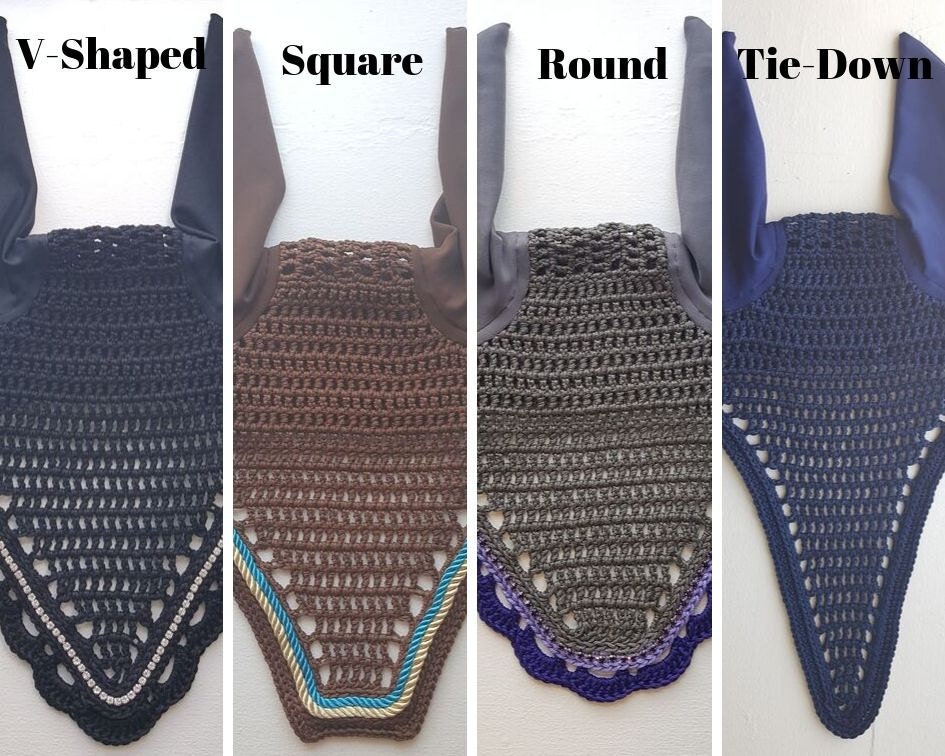 STEP 2: COLOR. Now's when you choose the base color of your bonnet. The standard black, navy, royal blue, and assorted grey and brown options are certainly available for custom orders. Have a specific color in mind? Let me know and I'll track down some options for you.    
STEP 3: TRIM. The most exciting part to any bonnet is the trim, that's where you get to add your personal touch. Maybe you're conservative and just want a little bit of cord or maybe you love some bling. The trim of your bonnet really highlights your style and takes your bonnet from boring to beautiful. But before you start picking out cord and fun colored rhinestones, you'll need to decide if you'd like any crocheted trim. After all, that cord and rhinestones trim needs a place to call home. I give buyers the option of up to 3 rows of crocheted trim in my base custom price – you choose the colors and their order (It's a lot of responsibility but I'm confident you can handle it ;-))! Looking to keep it simple, you're certainly able to use the base color of your bonnet as your outer row of trim. Speaking of outer trim – do you like scallops? Here's where we add them. Last but certainly not least, any cord and rhinestones are added. I'm able to order cord in a wide variety of sizes and colors. Rhinestones can also be added in a multitude of colors and different metal settings. I keep clear rhinestones in a silver setting available at all times but if you're a gold or rose gold lover – we can fix you up! The base price for each custom order includes one row of rhinestones and one row of cord, additional can be added for an extra fee.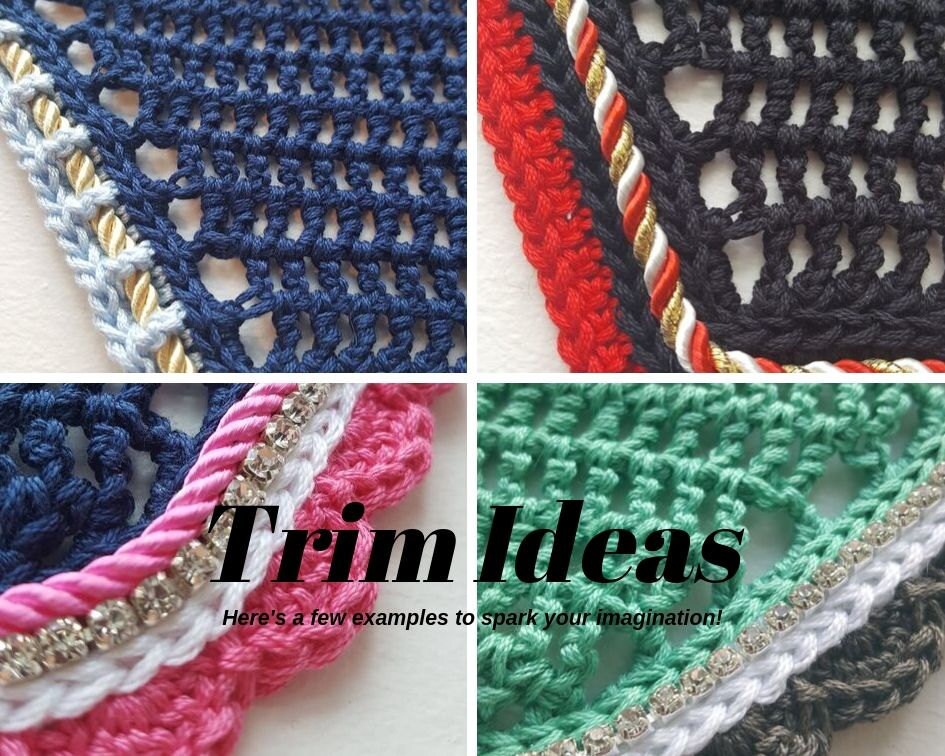 STEP 4: WAITING. This is the hardest part, now you just wait until your new fly bonnet arrives. I ship my bonnets via first class mail for FREE within the US (additional shipping applies to those outside the US). Most orders ship the same week they were ordered; though orders that require me to order specific supplies take a bit more time. The wait will be worth it – I promise!