I have many favorite things about this little business, but I have to say the number one thing I love is receiving photos of your horses in their Bascule Bonnets. That's right - after all of the hours I put in after my full-time job to create bonnets for you, the thing I enjoy the most is hearing from all of you. 
SIDENOTE: The extra $$$ doesn't hurt either because, like you, I own a horse and your orders go towards filling his cookie jar. He's actually the inspiration for the start of my business and I'll tell you a little about him next week. Here's a picture of my guy (his name is Warrior but his friends call him Whoa). Fun fact - he's wearing the first bonnet I made.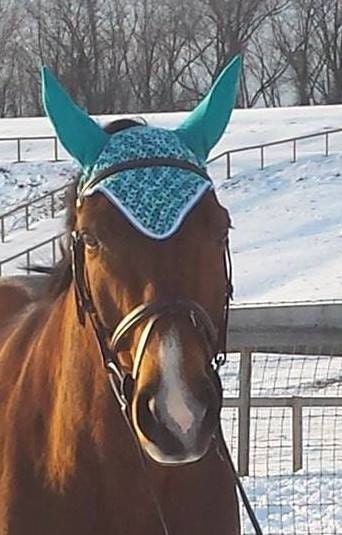 As an incentive for sharing your pictures, I'm running a promotion that allows you to share pictures of your horses wearing their bonnets in exchange for $$$ off your next order. Photos should show the bonnet clearly, have a pretty background, and a clean, happy horse! Professional photos are not permitted, I want to see your photo taking talent. Send me your pictures and I'll send you a discount code valid for three months that can be applied to your next order. Photos may be submitted via Facebook, Instragram, or Etsy private message. Each participant will receive a unique one-time use coupon code.
Anyone that participates in the photo promotion will also receive one extra chance to win in the GIVEAWAY I'm doing this October. You read that right - EXTRA CHANCE AT A GIVEWAY! One other way to earn an extra chance is to sign-up for our mailing list. Click here to sign-up:  http://eepurl.com/gC9bDb.
Here's a few winners that have already came in: